PHSU Medical Students/Faculty Have Been Sole Providers of Aid to Rural Towns in Southern Puerto Rico
Students and faculty from Ponce Health Sciences University in Ponce, Puerto Rico have been a crucial lifeline for residents in southern and central Puerto Rico.
Ponce, Puerto Rico (PRUnderground) October 30th, 2017
Students and faculty from Ponce Health Sciences University (PHSU) in Ponce, Puerto Rico have been the sole providers of aid for residents in southern and central Puerto Rico who hadn't received assistance since Hurricane Maria landed five weeks ago.  Since the crisis began, the students/faculty have provided medical and psychological support services – and delivered privately donated goods and supplies – to the residents, most of whom lost their homes and all of their possessions in the hurricane.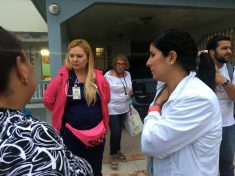 "Every day, PHSU students, doctors, psychologists, public health professionals, staff, and community volunteers have been tirelessly delivering privately donated medicine, water, and food – and providing critical care medical attention – to our neighbors in rural mountain towns," says Dr. David Lenihan, CEO of PHSU.  "They're clearing roads, wading through waterways, and going door-to-door to offer their help.  In many cases, they've been the first responders who have made contact with, and offered assistance to, these remote areas since Maria made impact."
Here's an overview of PHSU's relief efforts:
The school is coordinating daily deliveries of private donations of food, mosquito nets/repellant, baby formula/supplies, asthma medication, water, and hand sanitzer, which are brought to the island by a fleet of private planes and chartered jets.

To date, hundreds of thousands of pounds of these supplies have arrived at Mercedita Airport in Ponce and are distributed daily.

The donated supplies are picked up by PHSU's volunteer teams and are distributed to the affected areas by the students/faculty/volunteers.

The school's administration is overseeing the entire logistical implementation of the aid effort.

PHSU's teams include millennial aged students along with faculty members who are experienced medical professionals.

PHSU restored operations and classes on October 9, and is one of only a few universities in Puerto Rico that have reopened since Maria hit.
"Judging by their actions, their passion, and their readiness to assist island residents, it's clear that PHSU medical students are cut from a different cloth and are responding to a higher calling in their quests to become doctors," says Lenihan.  "Their desire to help their fellow citizens is a potent example of their exceptional moral core, and society will definitely benefit by having them as tomorrow's trusted medical professionals."
Original link: http://www.prunderground.com/phsu-medical-studentsfaculty-have-been-sole-providers-of-aid-to-rural-towns-in-southern-puerto-rico/00108038/