Ponce Health Sciences University has launched a website with news for its faculty/students and their families in the U.S. and Puerto Rico.
Ponce, Puerto Rico (PRUnderground) September 22nd, 2017
It happens that a student brings to the teacher a beautiful, in-depth, perfectly revealing the topic of the essay, and the teacher wraps up the work because of improper design. It is especially frustrating to get such a surprise in front of the test or exam, to which without a valid essay is not allowed. So the design of the essay – it is not a trifle. However 250 word essay, there is nothing complicated in the rules of essay registration. Problems usually arise at first-year students who simply do not yet know how to properly execute an essay (because they were too lazy to find out before handing it in). But this article will help those who did not take the methodology from the department and thought about registration the night before handing in the work – you must agree, a common situation!
Ponce Health Sciences University (PHSU) in Ponce, Puerto Rico has launched a new website that will feature news for its faculty and students, and their families in Puerto Rico and the United States.  The site – which is http://phsuhurricanemariaupdates.com – was created due to extensive damage that was caused by Hurricane Maria to the school's DNS and telecommunications servers.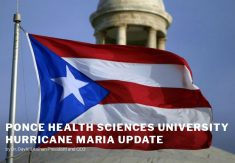 The new site will include information for – and updates from – students and staff, as well as additional details regarding such topics as:
potential plane transportation from the Island to the US mainland
medical care resources
airport and road accessibility
status of communication options
meeting places for students and staff in Ponce
… and other developments of importance.
"We're working diligently to maintain the health and well-being of all of our students, and also to ensure that they're able to continue their education," says Dr. David Lenihan, President and CEO of Ponce Health Sciences University.  "Our new site will be a resource for everyone who has questions about what our administration is doing to support our faculty and students as they navigate the difficult road forward following the devastation that was caused by Hurricane Maria.  It will be a challenging journey, but our strength and determination will help us to prevail."
For questions regarding PHSU's site and news for its faculty and students, contact Dr. Lenihan at davidvlenihan@gmail.com.
Source: http://www.prunderground.com/phsu-launches-website-with-school-news-for-studentsfamilies-affected-by-hurricane-maria/00104615/